The First VIRS: Chapter 01 teaser, with annotated companion script
Page 4
First page Prev page Next page Last page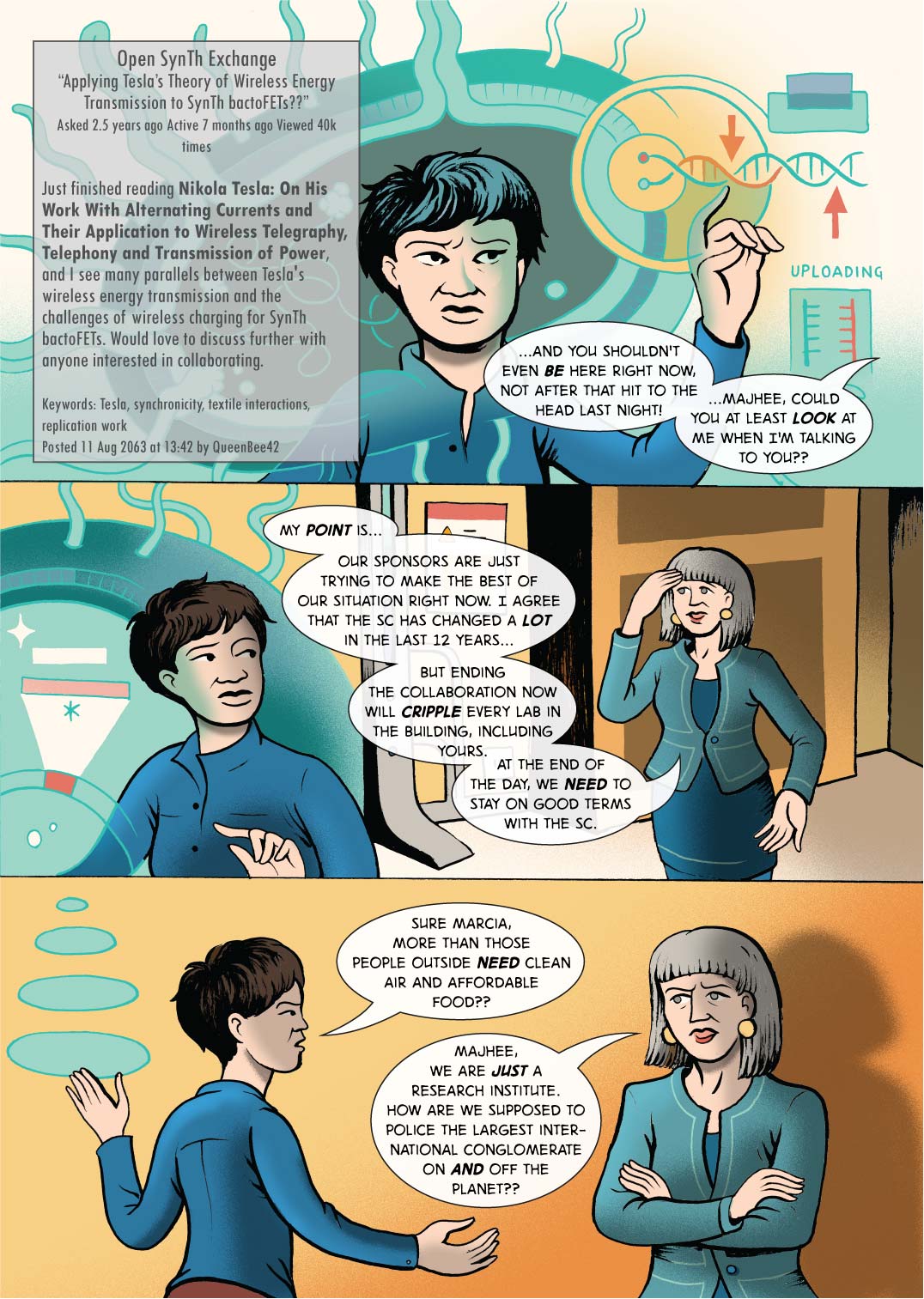 Annotations
A floating digital page reads the following:
"Open SynTh Exchange"
" 'Applying Tesla's Theory of Wireless Energy Transmission to SynTh bactoFETs??' "
"Asked 2.5 years ago Active 7 months ago Viewed 40k times"
"It's been over 10 years since body mods replaced smartphones…we should have better wireless charging for SynTh bactoFET components by now! I just finished reading Nikola Tesla: On His Work With Alternating Currents and Their Application to Wireless Telegraphy, Telephony and Transmission of Power, and I see many parallels between Tesla's wireless energy transmission and the 'synchronized SynTh' effect. Would love to discuss further with anyone interested in collaborating." "Keywords: Tesla, synchronicity, textile interactions, replication work" "Posted 11 Aug 2063 at 13:42 by QueenBee42"
Majhee stands in her office, seemingly floating in the center of a giant transparent bacteria made of light. The light model of the bacteria is exquisitely detailed, and a section of the nucleoid is blown up for closer inspection. Majhee's fingers are raised in a well-practiced yet complicated gesture. Her face is darkened with barely contained rage.
Off panel: "…and you shouldn't even be here right now, not after that hit to the head last night! Majhee, could you at least look at me when I'm talking to you??"
We see Marcia Netto, Director of the Laboratório Nacional de Biociências e Saúde Pública, in Majhee's doorway, looking exasperated. Majhee sullenly turns from her digital bubble.
Marcia: "My point is… our sponsors are just trying to make the best of our situation right now. I agree, Space Co has changed a lot in the last 12 years…but ending the collaboration now will cripple every lab in the building, including yours. At the end of the day, we need to stay on good terms with Space Co."
Majhee angrily turns off the giant bacteria of light with an impatient gesture as she turns to Marcia, furious.
Majhee: "Sure Marcia, more than those protestors outside need clean air and affordable food?"
Marcia loses her patience.
Marcia: "Majhee, we are just a research institute. How are we supposed to police the largest international corporation on and off the planet??"
Learn More
To learn more about this graphic novel, please visit www.danbeekim.org/VIRS
Project License

Vigilante Intergalactic Roustabout Scholars (VIRS) by Danbee Kim is licensed under a Creative Commons Attribution-NonCommercial-ShareAlike 4.0 International License.
Based on a work at http://www.danbeekim.org/projects/2018/02/28/VIRS-concept/.
Permissions beyond the scope of this license may be available at danbeekim.org.