The First VIRS: Chapter 01 teaser, with annotated companion script
Page 10
First page Prev page Next page Last page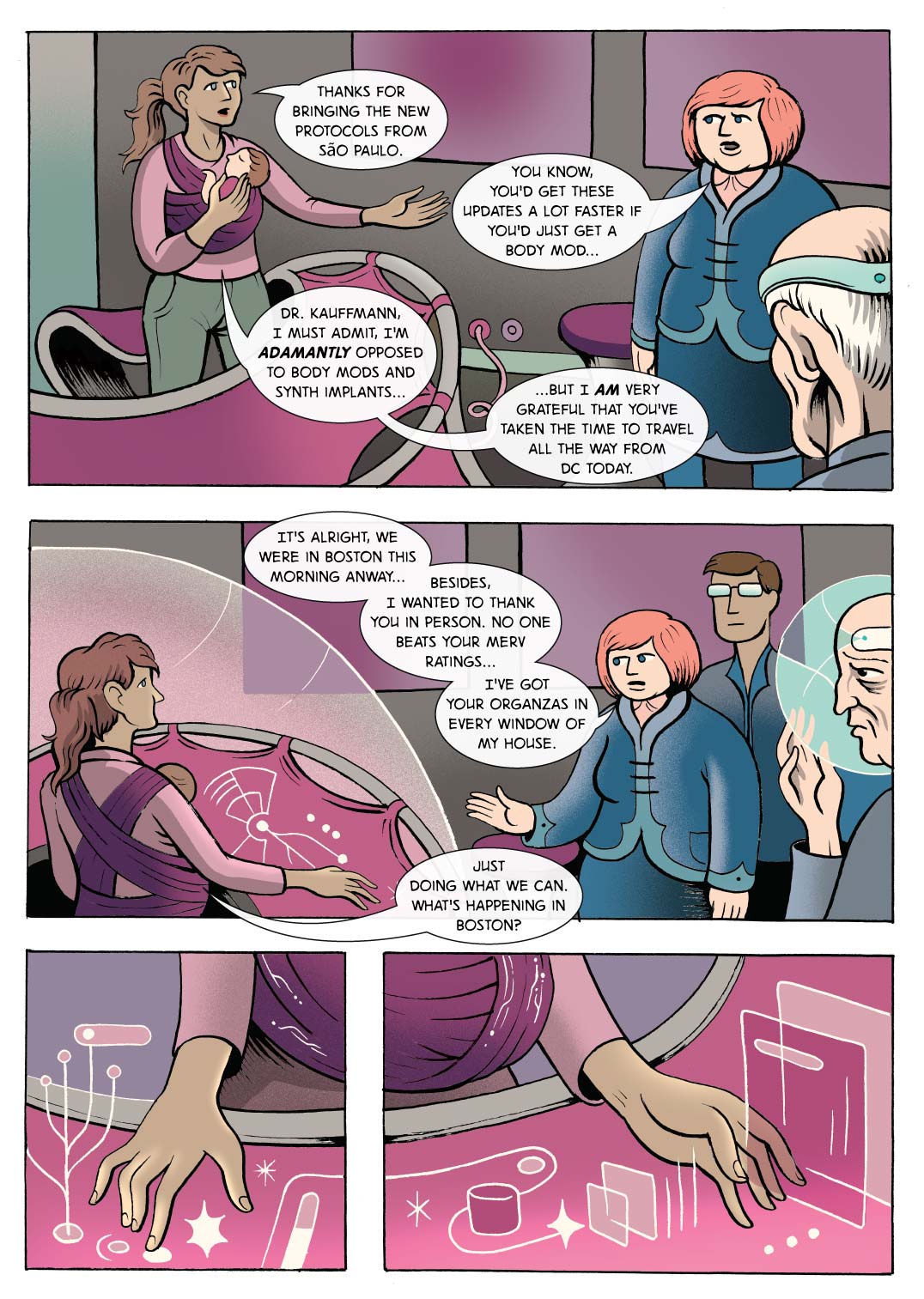 Annotations
Iúna: "Thanks for bringing the new protocols from São Paulo."
Dr. Kauffmann: "You know, you'd get these updates a lot faster if you'd just get a body mod…"
Iúna: "Dr. Kauffmann, I must admit that I'm adamantly opposed to body mods and SynTh implants…but I am very grateful that you've taken the time to travel all this way from DC."
Dr. Kauffmann: "It's alright, we were in Boston this morning anyway… besides, I wanted to thank you in person. No one beats your MERV* ratings… I've got your organzas in every window of my house."
MERV= Minimum efficiency reporting value
Iúna: "Just doing what we can. What's happening in Boston?"
Under this dialogue is a view of Iúna's desk. We see sneak peek's of the new splicing and voltage-treatment protocols visualized with light, a floating sphere controlled by a thick piece of SynTh canvas, stretched on a semi-circular frame that, when Iúna stands inside of it, places the canvas at about hip height, easy to reach while standing.
Learn More
To learn more about this graphic novel, please visit www.danbeekim.org/VIRS
Project License

Vigilante Intergalactic Roustabout Scholars (VIRS) by Danbee Kim is licensed under a Creative Commons Attribution-NonCommercial-ShareAlike 4.0 International License.
Based on a work at http://www.danbeekim.org/projects/2018/02/28/VIRS-concept/.
Permissions beyond the scope of this license may be available at danbeekim.org.