The First VIRS: Chapter 01 teaser, with annotated companion script
Page 11
First page Prev page Next page Last page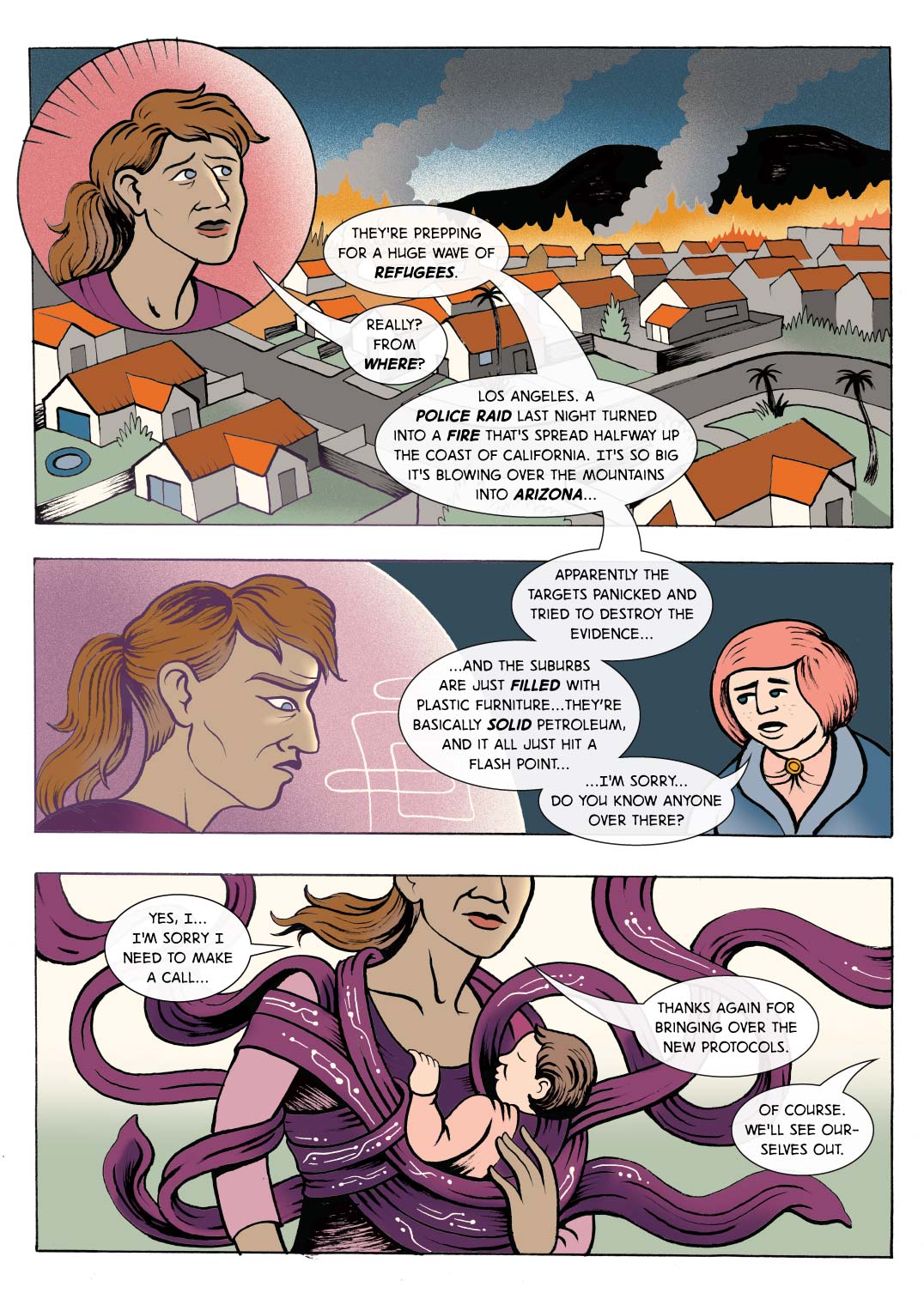 Annotations
Dr. Kauffmann: "They're prepping for a huge wave of refugees."
Iúna: "Really? From where?"
Dr. Kauffmann: "Los Angeles. A police raid last night turned into a fire that's spread halfway up the coast of California. It's so big it's blowing over the mountains into Arizona…"
Dr. Kauffmann: "Apparently the targets panicked and tried to destroy the evidence…and the suburbs are just filled with plastic furniture, which are basically solid petroleum, and it all just hit a flash point…I'm sorry…do you know anyone over there?"
Iúna: "Yes, I…I'm sorry, I need to make a call…"
Dr. Kauffmann: "Of course. We'll see ourselves out."
Under this dialogue we see close-up views of the baby strapped to Iúna's front. The child is a little less than one year old. The strapping is an intricately folded piece of SynTh cloth that can amplify the baby's heartrate, breathing, and digestive sounds.
Learn More
To learn more about this graphic novel, please visit www.danbeekim.org/VIRS
Project License

Vigilante Intergalactic Roustabout Scholars (VIRS) by Danbee Kim is licensed under a Creative Commons Attribution-NonCommercial-ShareAlike 4.0 International License.
Based on a work at http://www.danbeekim.org/projects/2018/02/28/VIRS-concept/.
Permissions beyond the scope of this license may be available at danbeekim.org.